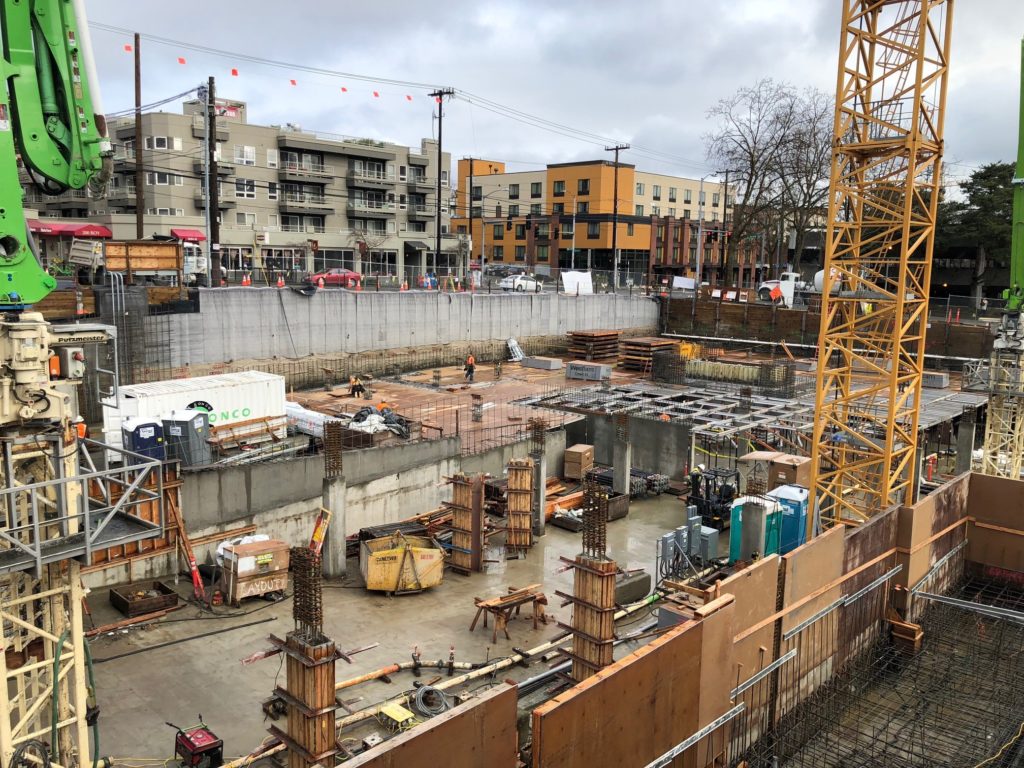 Final P2 Concrete Pour and Prep for P1
Two successful concrete pours down and one more to go!  The second layer of structural steel reinforcement was installed at the SW corner of the site last week which means that the third and final section of the concrete floor in the lowest garage level (P2) is ready to be poured.  As you may know from our previous update, this pour was originally scheduled for January 19th, but due to the Seattle Women's March last weekend, the City required us to delay that pour and it has been rescheduled for this Saturday, January 26th.  On the day of the pour, concrete pumps will be set-up on 2nd and 3rd Ave beginning at 6:00 am.  Trucks will begin arriving at the site at 7:00 am.  3rd Ave will be closed until 4:00 pm, but both lanes of traffic will remain open on 2nd Ave.
With the completion of the P2 garage floor just around the corner, the construction team has been focused on installing the structural steel and columns that will be used to support the P1 garage floor and the horizontal decking that will serve as the support for the concrete.  They've also been shooting shotcrete (a term used when concrete is sprayed into a form vertically) to the load-bearing walls on P2 and the perimeter walls at the NE corner of the site.  This week, the team will be working on casting (concrete installation) for the elevators and stairwell core walls in the smaller of our two buildings located at the NW corner of the site.
Thank you for your patience during the on-going utility work that's been happening along Roy.  Seattle City Light required the installation of several duct banks to run primary electrical power for the new buildings.  Please note that we'll be forced to open the street once again when we install our telecom lines.  We had planned to complete both installations at the same time, but unfortunately, the City (SDOT) required us to install them separately.