Lagging Installed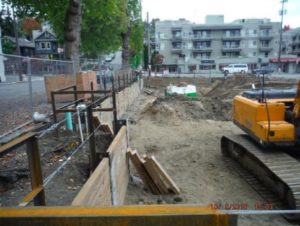 Soldier pile installation has been continuing around the site. Pictured at left is the wood installed along the west wall, called lagging
{which is anchored to the steel piles}
, to keep soils from falling into the excavated site.
For the rest of October, the contractor will continue with the site excavation, installing the wood lagging all the way down to 20 ft. depth, and anchoring of the wood lagging with long (20-30 ft.) soil nails.
 The goal is to be complete with all excavation and soil removal by the end of November.  Dump truck activity to remove soil from the site and traffic control by Exxel will continue for the next several weeks.
Groundwater seepage continues to be monitored and any accumulation is being pumped out. An example of groundwater accumulation is pictured below.