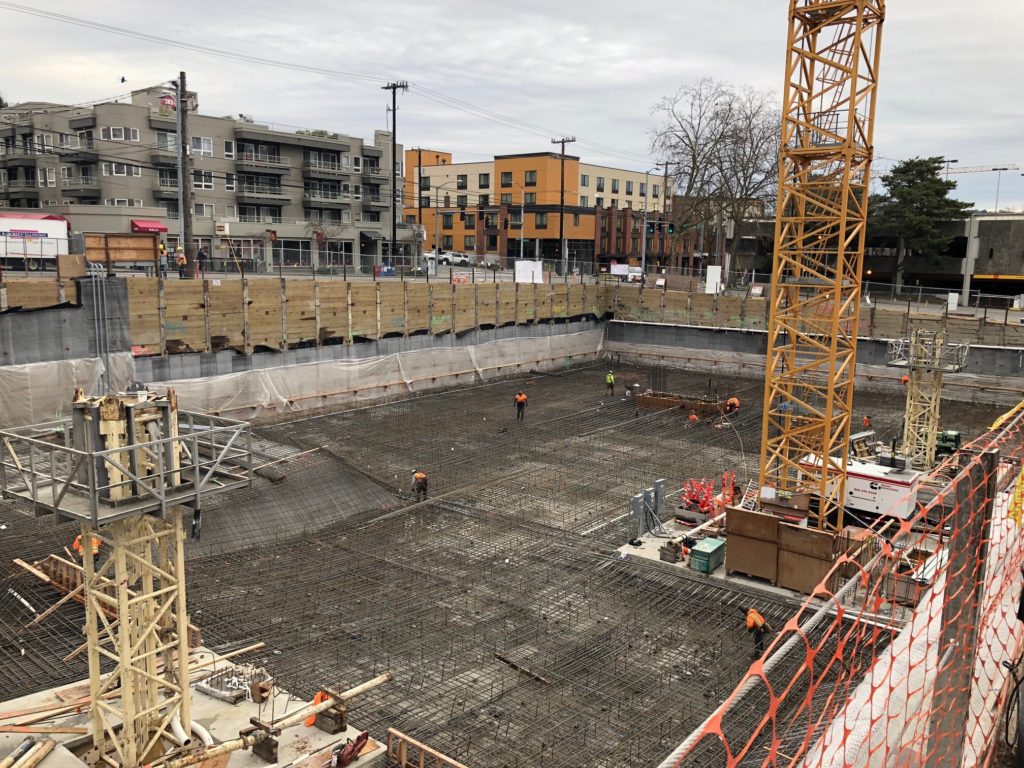 Preparing for Concrete
Happy New Year!
While many of us were enjoying the holidays, the Center Steps construction team was busy preparing for the first concrete pour that's scheduled for Saturday, January 5th.  The pour will be located at the NE corner of the site which is at 3rd and Roy.  Saturday's concrete pour will cast the first portion of the mat slab which is the lowest section of concrete flooring in the P2 garage level.  The first concrete pour is always a major milestone for a project, so we're excited that we've reached this point!
Concrete is usually cast in multiple sections until one floor is complete, so the construction team is now installing the steel reinforcement that's needed for the second mat slab pour located at the SE corner of the site which is at 3rd and Mercer.
Progress is also being made with the vertical waterproofing along the perimeter of the site – it should be 100% complete by mid-January.
We've already sent out a few notices to our neighbors, but we want to remind everyone that our concrete pours are scheduled for the first three Saturdays in January – the 5th, the 12th and the 19th.  On the 5th, concrete trucks will arrive at the site beginning at 5:15 am.  A pump truck will be set-up on 3rd Ave at 6:00 am and the street will be closed until 7:00 pm.  The crane lights and the tasking lighting on 3rd Ave will also go on at this time.  2nd Ave will be used for staging, but both lanes of traffic will remain open.