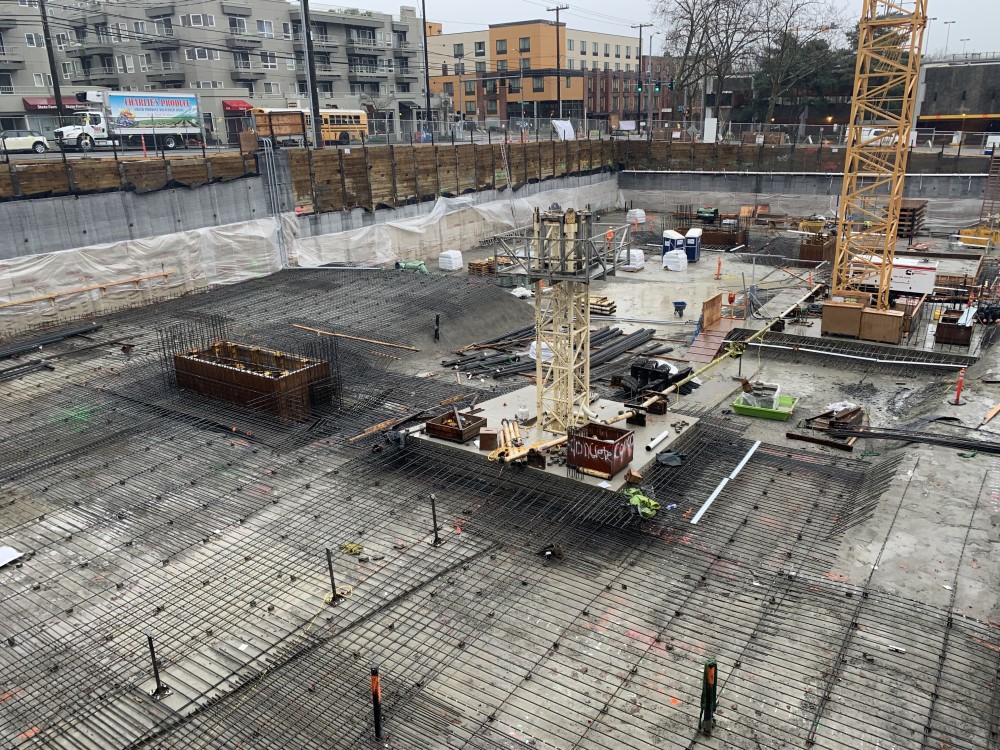 Upcoming Concrete Pours
During the last couple of weeks, the construction team has been focused on preparing for the first concrete pour scheduled for January 5th.
They've been making progress with the installation of the membrane and vertical wall waterproofing while placing a thin, non-structural layer of concrete along the bottom of the excavated hole.  This acts as an additional level of protection.  The waterproofing is now 80% complete and should be fully complete by mid-January.
The construction team has also been busy stocking and installing the concrete reinforcement for the elevators, the placing boom (a moveable arm that's used to place concrete in different locations around the site) and the matte slab which is a "mat" of concrete that sits just on or below the ground and acts as a shallow foundation.
The below-grade plumbing will be complete by the end of the week.
Our concrete pours are scheduled for the first three Saturdays in January – the 5th, the 12th and the 19th.  On January 5th, concrete trucks will arrive at the site beginning at 5:15 am.  A pump truck will be set-up on 3rd Ave at 6:00 am and the street will be closed until 7:00 pm.  The crane lights and the tasking lighting on 3rd Ave will also go on at this time.  2nd Ave will be used for staging, but both lanes of traffic will remain open.