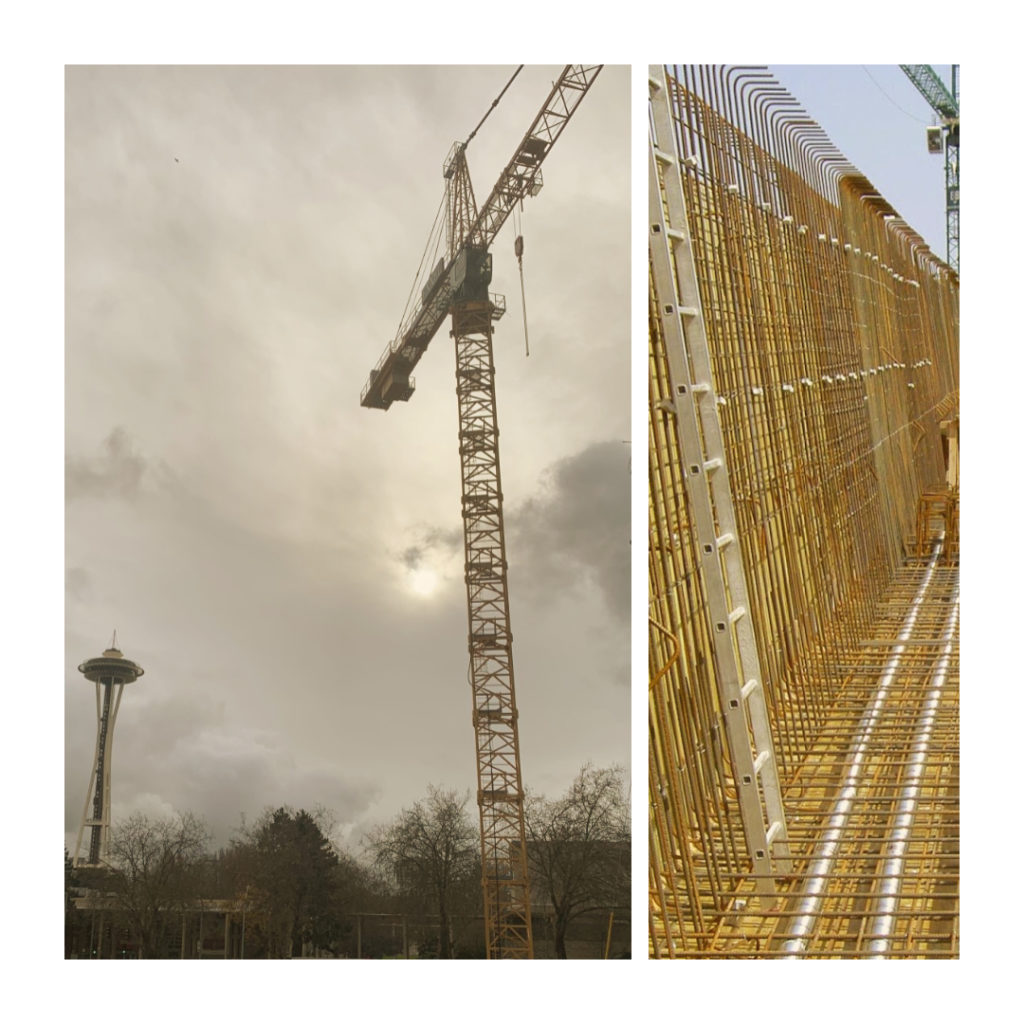 Tower Crane Installed and Concrete Superstructure Work Commences
The large tower crane along Roy St. was erected last week which allows the contractor to move large, heavy objects around the site such as steel and large pipes.
Now that excavation and export of all the soil has been completed, the contractor is preparing the bottom of the hole for the first concrete pour.  This includes the following steps:
New utility line installations.  All the below grade utility lines that will serve the new building need to be installed below the concrete surface, as well as drains for water that drips off of cars.  Utility lines installed last week include new waste lines, new storm water runoff, and new water lines).
Once that work was completed, waterproofing the bottom of the excavated hole is next.  The waterproofing membrane installation began last week in what will be the lowest level of the parking garage.
The next step is installing large quantities of rebar around the site.  Rebar is the construction term for reinforced steel bars, a steel bar or mesh of steel wires used as a tension device in reinforced concrete to strengthen and aid the concrete under tension. Concrete is strong under compression, but has weak tensile strength. Rebar significantly increases the tensile strength of the structure. The contractor needs to install this rebar per structural engineers design before the concrete can be poured over it.  The installation of the rebar is inspected by both an independent inspector as well as the structural engineer.  Once approved, the area is cleared for the first construction pour which will be the bottom floor of the parking garage.
This week the rebar for the first elevator bank was installed. The second elevator bank is being prepared for rebar installation this week.
Waterproofing and rebar installation will take most of December, with the first concrete pour scheduled for the first Saturday in January.  The concrete pours were delayed and rescheduled so as not to interfere with Seattle Center holiday event traffic, such as the Nutcracker.  In order to be efficient and avoid impacting Seattle Center events, there will be three large concrete pours in January, scheduled for the first 3 Saturdays of the month.  We will communicate more on what this will look like as we get closer to the date, but expect 3rd Avenue to be closed all day these 3 Saturdays.